This is a guide on which Yubikey is the best for you and where you can buy it.
Choosing the best YubiKey for yourself could be difficult sometimes since there are technically many YubiKey to choose from. It comes in a different various size and each individual Key have their own usefulness. Having a YubiKey not only protect you from hackers, it also gives you an unprecedented security when leaving your laptop turn on while you are away.
Previously without YubiKey, anyone can do shoulder surfing on you while you are typing your password. But now with YubiKey even if the person knows your password, he or she will not be able to access to your personal computer.
What is a YubiKey?
The YubiKey is a hardware authentication device manufactured by Yubico that supports one-time passwords, public-key cryptography and authentication, and the Universal 2nd Factor (U2F) and FIDO2 protocols developed by the FIDO Alliance. It allows users to securely log into their accounts by emitting one-time passwords or using a FIDO-based public/private key pair generated by the device.
YubiKey also allows for storing password for use at sites that do not support one-time passwords. Facebook uses YubiKey for employee credentials, and Google supports it for both employees and users. Some password managers support YubiKey and Yubico also manufactures the Security Key, a device similar to the YubiKey, but the Security Key is focused only on public-key authentication.
Why Yubikey?
A single YubiKey is capable of multiple functions for securing your login to email, online services, apps, computers, and even physical spaces. You can use one or more YubiKey features or use them all. The flexible YubiKey is known as the best as it requires no software installation or battery; just plug it into a USB port, and touch the button, or tap-n-go for secure authentication.
Yubico offers different keys for devices with USB-A, USB-C, or NFC connections, while Google offers one that uses Bluetooth. Here are three reason why you should consider YubiKey.
Ultra-Secure
Zero recorded account takeovers in 11 years. The physical key requires a human touch and it cannot be hacked remotely.
Quick and Reliable
One-tap login, nothing to download, no batteries, crush and water resistant. Manufactured in Sweden and California
One key, many services
One key to access hundreds of top sites. No user and Security information is shared between the services thus protecting your privacy
Where can you use the YubiKey?
It only takes a few seconds to register a YubiKey with your personal accounts and favorite digital services. The easiest and most popular method to secure instant access across millions of sites is to pair the YubiKey with leading cloud single sign-on providers or password managers. Here is some example of where you can use your Yubikey.
Computer Access
Social Media Platforms
Facebook
Twitter
Google Account
Email
Gmail
Yahoo Email
Zoho Email
Cloud Storage
Google Drive
One Drive
Dropbox
5 Best Yubikey you should consider.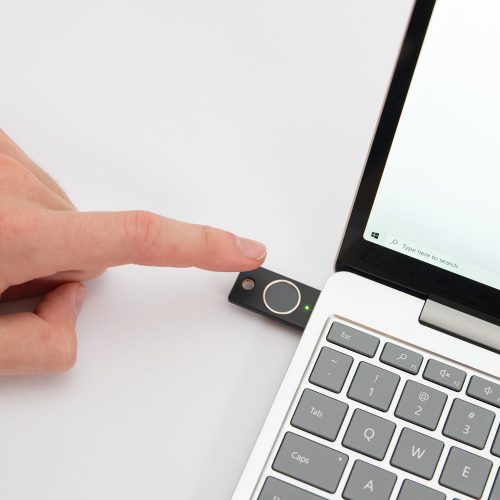 1.Yubico YubiKey 5 NFC. The YubiKey 5 is compact, durable, light and even waterproof. Using a Gold and Black design. It supports many security standards, including OTP, Smart Card, OpenPGP, FIDO, U2F, and FIDO2. It is one of the best Yubikey Key for most people and it is known as the most reputable product of this kind in the market.
Pros

Small and Light
Durable

Cons

No USB-C Connection
Bigger than the Nano Version

Places to buy

Facebook@:https://www.facebook.com/dtahongkong/
DT Asia Group HK@:https://vaultumcity.com/product/yubikey-5-nfc/

Price

USD 50-55
2.Yubico YubiKey 5C. The YubiKey 5 also have a USB-C compatible security Key that works the same OTP, Smart Card, OpenPGP, FIDO U2F, and the FIDO2 standards as the USB-A version. While it is not the most affordable security key on the list, it is an essential and a best Yubikey for owners of Android.
Pros

Compact USB-C Design
Compatible with range of standards

Cons

No NFC
Cost more than the alternative.

Places to buy

Facebook@:https://www.facebook.com/dtahongkong/
DT Asia Group HK@:https://vaultumcity.com/product/yubikey-5c/

Price

USD 54-60
3.Yubico YubiKey 5 Nano. If you are looking for the smallest Security Key around then this is for you. YubiKey 5 Nano is eclipsed by most coins and is hard to notice when attached to a keychain or a keyring. But with its miniature size comes at a cost. However, the Security Key is FIDO 2 Certified and support a number of other protocols including FIDO U2F, Yubico OTP, OATH-TOTP, OATH-HOTP and OpenPGP.
Pros

Keyring-Friendly
FIDO Certified
Cons

USB-A only
No NFC
Places to buy

Facebook@:https://www.facebook.com/dtahongkong/
DT Asia Group HK@:https://vaultumcity.com/product/yubikey-5-nano/

Price

USD 54-60
4.Yubico YubiKey 5Ci. Feeling a little bit worry that you have not seen a YubiKey for IOS? do not worry I got your back. This model from Yubico is ideal if you are a user of both Apple devices and USB-C. The YubiKey 5Ci is equipped with both Lightning and USB-C port. It's FIDO-compliant and works with applications on iOS, Windows, macOS and Linux, providing access to services such as Gmail, Facebook, Dropbox, Outlook, LastPass, Dashlane, and 1Password.
Pros

USB C and Lightning Port
FIDO-Compatible

Cons

Exposed Port
Expensive

Places to buy

Facebook@:https://www.facebook.com/dtahongkong/
DT Asia Group HK@:https://dtasiagroup.com.hk/product/yubikey-5ci/

Price

USD 70-75
5.Yubico YubiKey Sky3. If you are looking to just protecting your social media accounts or communication account like Google or Facebook than this is for you. Yubikey Sky3 combines hardware-based authentication, public key cryptography, and U2F and FIDO2, along with USB and NFC capabilities all-in-one to help eliminate account takeovers across desktops, laptops and mobile.
Pros

Supports over hundreds of services such as Google, Microsoft, Twitter and Facebook
Strongest and most durable security key in market

Cons

Does not support computer logins
Have lesser function than YubiKey 5 Series.

Places to buy

Facebook@:https://www.facebook.com/dtahongkong/
DT Asia Group HK@: https://dtasiagroup.com.hk/product/fido2-u2f-security-key-nfc/

Price

USD 30-33
More of our "Be Safe Online" Special Edition:
Conclusion
YubiKey is easy to use and have strong authentication as it is an All-in-one configurable security key and with a simple touch, Yubikey protects access to computers, networks, and online services. It is also easier and safer than authenticator applications. Which means no more reaching for your smartphone, or retyping passcodes. All you need is to plug in your Yubikey and tap, and the rest it done for you. Lastly it works with hundreds of services like Windows and mac login, Gmail, Facebook, Dropbox and many more services.
This solution will save a lot of time by going password-less and will put an end to all phishing attacks effectively.
Users
YubiKey 5 NFC
YubiKey 5C
YubiKey 5 Nano
YubiKey 5Ci
Security Key Series
Individual Consumer
√
√
√
√
√
Business and Government
√
√
√
√
Password less
√
√
√
√
√
Strong Two Factor
√
√
√
√
√
Strong Multi Factor
√
√
√
√
√
Communications Support
USB-A
√
√
√
USB-C
√
√
Near Field Communication (NFC)
√
√
Lightning
√
Functions
WebAuthn
√
√
√
√
√
FIDO2 CTAP1
√
√
√
√
√
FIDO2 CTAP2
√
√
√
√
√
Universal 2nd Factor (U2F)
√
√
√
√
√
Smart card
√
√
√
√
Yubico OTP
√
√
√
√
OATH – HOTP (Event)
√
√
√
√
OATH – TOTP (Time)
√
√
√
√
Open PGP
√
√
√
√
Secure Static Password
√
√
√
√
YubiKey Tools
YubiKey Manager
√
√
√
√
√
Yubico Authenticator
√
√
√
√
Personalization Tool
√
√
√
√
Computer Login
Windows
√
√
√
√
MacOS
√
√
√
√
Linux
√
√
√
√
Productivity & Communication
Google Account
√
√
√
√
√
Microsoft Account
√
√
√
√
√
Social
Facebook
√
√
√
√
√
Twitter
√
√
√
√
√
Design & Durability
Water Resistant
√
√
√
√
√
No Batteries Required
√
√
√
√
√
No Moving Parts
√
√
√
√
√
To find out more additional information about YubiKey, please go to our Website at https://vaultumcity.com/yubikeys/ or if you have any enquire about Yubikey, please contact us and also visit our DT Asia HK Facebook at https://www.facebook.com/dtahongkong/ to find out more.
VaultumCity is the best trusted place to select and buy your best Yubikeys, Vaultumcity free ship all yubikeys, Vaultumcity is reseller distributor of yubikeys so you can find cheapest best yubikey in Vaultumcity. If you are looking for best Yubikeys in Singapore at VaultumCity website online store.
The shop that sells yubikeys is https://vaultumcity.com/product-category/yubikey/
Our delivers are from Singapore, distribute globally. Buying Yubikey in Vaultum to have best customer and after sales services. All Yubikeys sold at Vaultumcity are quality guaranteed. Please place a large amount order to have great discount for reseller. Contact Vaultumcity at https://vaultumcity.com/contact/ whenever you have any issue with your yubikeys. Buying yubikeys at Vaultumcity to have best newest yubikeys free shipped to your door, FIDO2 U2F SECURITY KEY C NFC, FIDO2 U2F SECURITY KEY NFC, YubiKey 5 Nano, YUBIKEY 5 NFC, YubiKey 5C, YubiKey 5C nano, YubiKey 5C NFC, YUBIKEY 5Ci, YubiKey Bio – FIDO Edition. Yubikeys are best  most secure tools for two-factor authentication. You can also buy yubikeys form Malaysia, Yubikey Malaysia is being sold at Vaultumcity with great price and free ship, you have it fastest, just in few days because we're here in Singapore.
If you are looking for yubikeys in Indonesia, Vaultumcity is a great place to buy yubikey Indonesia, you can have yubikeys to protect your logins in just few days. Vaultumcity ship your yubikeys to your home in Thailand, to help ensure your data is safe and secured.
What about South Korea, Vaultumcity bring your yubikeys to your home in South Korea free-shipped.
Vaultumcity also delivers yubikeys to Japan, any province or city to your hands. Check out and grab your best suited yubikey today at VaultumCity.