Today, Yubico is excited to announce the launch of YubiKeys in the AWS Marketplace, providing a new and efficient way for AWS customers to purchase YubiKey solutions.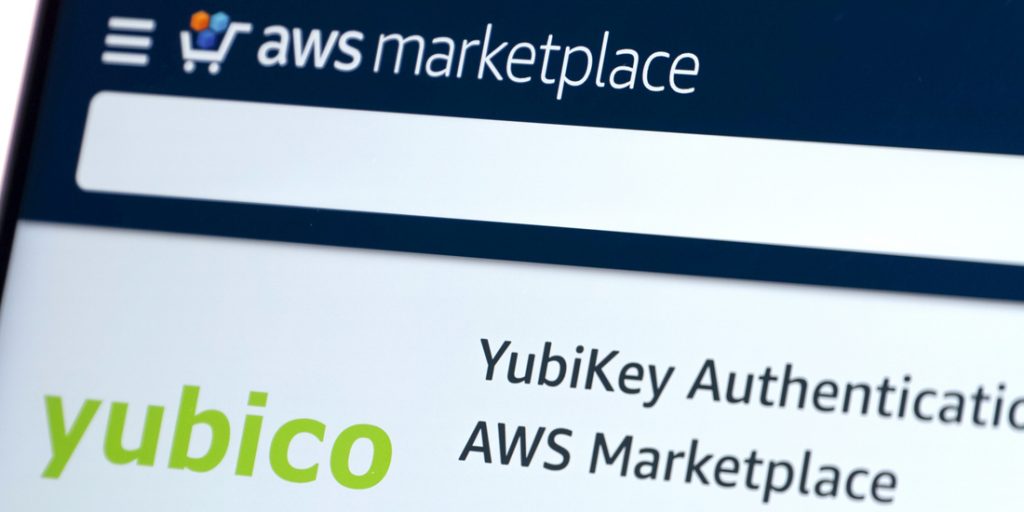 With the new collaboration, Yubico is now expanding our distribution options to meet customers where and how they chose to procure YubiKey solutions either directly from Yubico's online store, Yubico eCommerce, through our resellers and distributors, additional partners, and now as SaaS subscriptions in the AWS Marketplace.
"YubiKey authentication subscriptions on AWS Marketplace is a welcome addition to our security category offerings as they support multiple authentication protocols like FIDO2 and WebAuthn and more, allowing it to work with both legacy and modern cloud-based infrastructures," said Mona Chadha, Director of Category Management at AWS. "Our collaboration with Yubico makes the multi-factor authentication hardware security key easy for customers to procure via AWS Marketplace at a time when cybersecurity risks are more prominent than ever."
YubiKeys purchased in the AWS Marketplace are sold as a three-year SaaS subscription on existing Amazon Web Services (AWS) contracts with annual payments for enterprise customers. Procuring YubiKey subscriptions on the AWS Marketplace contributes to your AWS consumption commitment and provides simplified transactions utilizing your existing AWS purchase contract and invoices.
YubiKey models, form factors, and number of users is flexible and can be adjusted to fit specific needs and requirements. This includes upgrade benefits and simplified procurement as part of AWS consumptions. To learn how YubiKeys work with AWS, including on AWS Management Console, see here. More details on the technical setup can be found in our solution brief.
YubiKeys provide easy to use, phishing-resistant multi-factor authentication (MFA) to increase security and mitigate account takeovers. Whether your identity access management platform is AWS IAM, Okta, Ping, Duo, or another service, Yubico offers a secure authentication solution that meets you where you are on your Zero Trust, MFA, and passwordless journeys. Key benefits for AWS Marketplace customers include:
Seamless security across your favorite applications and devices to mitigate account takeovers with phishing-resistant MFA.YubiKeys can be used to authenticate and have 4x faster logins vs. mobile authenticator apps or SMS.Enterprise organizations can expect a simple, easy-to-use experience with up to 92% reduction in support costs.With the addition of Yubico to the Identity category – which has other sellers such Okta, SailPoint, Ping Identity, etc. – customers can provision almost everything that they need from an Identity and Access management standpoint.YubiKeys available include the YubiKey 5 Series and YubiKey 5 FIPS Series.
YubiKeys support multiple authentication protocols like FIDO2 and WebAuthn, as well as OTP, SmartCard (PIV), OpenPGP, FIDO U2F, and more – meaning the keys to work with both legacy and modern cloud-based infrastructures. A single device supports hundreds of applications and services, and seamlessly works across all operating systems and mobile devices.
To learn how YubiKeys work with AWS, including on AWS Management Console, see here. For more information on the collaboration, contact Yubico at aws.marketplace@yubico.com
The post YubiKeys are now available to purchase in the AWS Marketplace in the U.S. appeared first on Yubico.
—————-
VaultumCity is the best trusted place to select and buy your best Yubikeys, Vaultumcity free ship all yubikeys, Vaultumcity is reseller distributor of yubikeys so you can find cheapest best yubikey in Vaultumcity. If you are looking for best Yubikeys in Singapore at VaultumCity website online store.
The shop that sells yubikeys is https://vaultumcity.com/product-category/yubikey/
Our delivers are from Singapore, distribute globally. Buying Yubikey in Vaultum to have best customer and after sales services. All Yubikeys sold at Vaultumcity are quality guaranteed. Please place a large amount order to have great discount for reseller. Contact Vaultumcity at https://vaultumcity.com/contact/ whenever you have any issue with your yubikeys. Buying yubikeys at Vaultumcity to have best newest yubikeys free shipped to your door, FIDO2 U2F SECURITY KEY C NFC, FIDO2 U2F SECURITY KEY NFC, YubiKey 5 Nano, YUBIKEY 5 NFC, YubiKey 5C, YubiKey 5C nano, YubiKey 5C NFC, YUBIKEY 5Ci, YubiKey Bio – FIDO Edition. Yubikeys are best most secure tools for two-factor authentication. You can also buy yubikeys form Malaysia, Yubikey Malaysia is being sold at Vaultumcity with great price and free ship, you have it fastest, just in few days because we're here in Singapore.
If you are looking for yubikeys in Indonesia, Vaultumcity is a great place to buy yubikey Indonesia, you can have yubikeys to protect your logins in just few days. Vaultumcity ship your yubikeys to your home in Thailand, to help ensure your data is safe and secured.
What about South Korea, Vaultumcity bring your yubikeys to your home in South Korea free-shipped.
Vaultumcity also delivers yubikeys to Japan, any province or city to your hands. Check out and grab your best suited yubikey today at VaultumCity.